Recent Posts
11
« Last post by bungodoug on Today at 11:07 AM »
Thanks again ... fairly new to this. Felt it should work but great to get second opinion
12
« Last post by Oceans05 on Today at 11:07 AM »
Hello!

With the new blue tooth feature for the CTs, I was wondering if anyone had any insight to if the cordless track saw and jigsaw packages may start to include the Bluetooth airstream batteries?

Trying to decide if should purchase the basic tool without batteries and purchase the airstream charger and BT batts separate?

Thank you
Stephan
13
There's a lot of anti-static stuff out there, it's just not coming from the woodworking industry. I've recently done a bit of a deep dive looking to put together a UDD but without the price and size. Non-festool hoses can be quite a bit cheaper... these are used in ESD-sensitive areas, flammable or hazardous dust collection, so all the usual attachments are available in metal or conductive plastics. A few names to look for are Flexaust, Clayton, Dynabrade, Nilfisk. Look for 'conductive' or 'dissipative' rather than anti-static.

Also to mirror rst, the Oneida-Air conductive elbows are good. Very low resistivity.

14
Sapele is an African hardwood and perfectly fine substitute as a mahogany variant.
Thanks for these links. Do you think Sapele would be similarly durable to Sipo?

15
« Last post by miclee15 on Today at 11:03 AM »
I have not tried spraying F&B emulsion (wall) paint, but I have sprayed estate eggshell and exterior eggshell satisfactorily with my HVLP (Fuji Q4).

I have had paint colour matched to F&B, but as alluded to earlier this is a big subject - even though the colour may be a good match, the look of the paint may not be, and in my experience isn't. There is more to it than pigment as I understand it, eg fillers etc that affect the paint's reflectivity etc etc.

The F&B website gives detailed guidance for each product on recommended application - in most cases airless and HVLP are recommended - in the case of HVLP, they suggest that thinning of up to 30% may be necessary.

Do not ignore the guidance to use the correct F&B primer - there is plenty of evidence that using other primers will potentially cause problems (don't ask me why).

Finally, in my experience, whether sprayed or brushed on, the eggshell paint does take some days to get to a hard finish - until then even when apparently dry it can still feel a little sticky - no problems once fully dry though.

Hope that helps

Cheers

Thank you very much for sharing your experiance. I did read accounts about the primer from a few years ago, but haven't seen recent accounts. Regardless, it's cheaper to do it once with F&B then 2 times trying to save a few dollars (or pounds in your case).
16
« Last post by bungodoug on Today at 10:58 AM »
Thanks for these links. Do you think Sapele would be similarly durable to Sipo?
17
« Last post by Harvey on Today at 10:58 AM »
I made a new router table top for my MFT: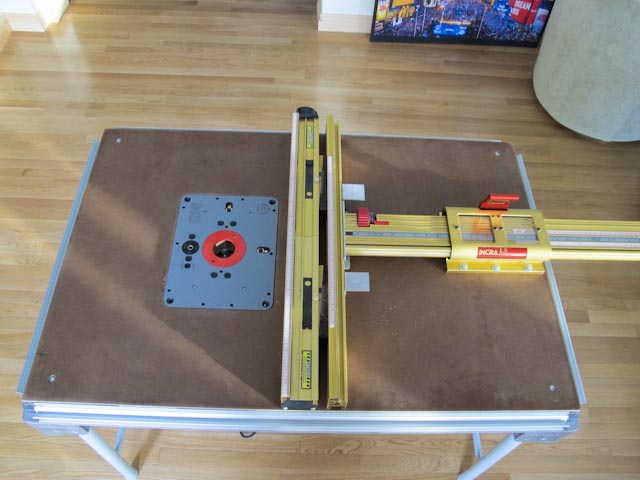 http://festoolownersgroup.com/festool-jigs-tool-enhancements/mft3-router-table/msg296369/#msg296369
Although heavy it uses the MFT mounting points so it's easily replaced with the orginal top.
I've built up the underside supports since I made it to prevent sagging.
Also the Inrca LS positioners are sold in metric versions:
http://www.incrementaltools.com/category_s/255.htm
19
« Last post by bungodoug on Today at 10:43 AM »
I have quite a lot of Sapele and I am wondering if I could turn some of it into homemade dominos as an alternative to buying Sipo dominos. Seem to have pretty similar characteristics. Anyone done this? Dumb idea or worth a bash? Thanks doug
20
A quick update... I did get confirmation from Festool that the mixer can handle a concrete product like Quickcrete without any issues. Plenty of torque and control to do that type of mixing.