Recent Posts
21
Thinking about upgrading your shop with a new stationary tool? Welp, now's the time to do it with the JET tools summer woodworking sale at The Tool Nut! Take
10% off JET woodworking tools
during this limited time 4-day sale. Some exclusions apply.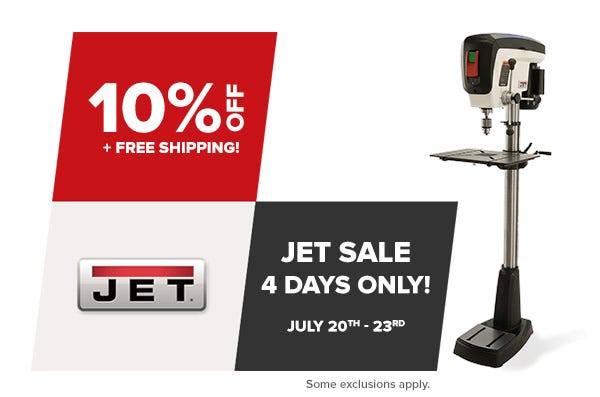 23
Last night my wife made thai green curry chicken (left bowl) and northern thai pork belly curry (right bowl) with stir fried chayote.
24
Mine is 1500 miles away and I'm asked by a friend.

When flat on bench, what is the distance from surface up to C/L of cutter?

25
WOW. Thanks for all the replies. I must say I am very surprised how many people all have a Technivorm!

Followup question: what kind of coffee is everyone using in the Technivorm? I really don't want to have to buy a coffee grinder to grind the beans every morning. I know that will yield the optimum flavor and taste and all that, but it's not that big of a deal for me.

When we had the drip brewer I just used the big can of ground colombian coffee from Costco. That was good enough for me. Would it be sort of foolish to buy such a high end coffee maker if I was going to use pre-ground beans?


26
« Last post by RJNeal on Today at 08:38 AM »
Thank Shane. And good morning.
These are on my hit list.
Was waiting for a set to come up on the recon site but now....
I order a set this week.
Rick
27
Bump, ICYMI.
Festool has announced an immediate deep discount on pricing for the VAC-SYS vacuum clamping system. Pricing is now ~25% lower!

View new pricing and order now!

New pricing:

201064 Vacuum pump VAC-PMP USA $620.00
201065 Vacuum unit VAC SYS SE 1 USA $425.00
203148 Vacuum unit VAC SYS System $990.00
203149 Vacuum unit VAC SYS System Set $1,375.00
580062 Vacuum unit VAC SYS SE 2 $425.00




28
« Last post by Lettusbee on Today at 08:30 AM »
Peter -
Well... If they ever do make it to Colorado Springs -
At least 4 of 'em can stay at my place. We've got plenty of room - Indoors.
(We have visitors stay with us from April through September - Every year.)

If any do want to camp... No problem. I'm on 5 acres... At 7,500'. Cool and dry.
You're welcome, too.

There was a roadshow in Fort Collins at the Sears Trostel store in 2016.
I'd bet Austin Hardwoods in Denver had one in recent memory as well.

29
Someone at Festool may be plotting a "vac vac" as we speak. Failure to routinely vac your vac will void your vac warrenty.

The irony of ironies - a vacuum to vacuum your vacuum.
Hey Guys:
Why even let the CT "eat dust"? Those Dust Extractors are expensive.
So are those HEPA filters and bags.
I'm thinkin' - Dust Deputy - Or if you can wait 'til the Fall - Festool's new CT Pre Separator.

I don't think I really generate enough dust to justify the cost of the a dust cyclone separator. Most importantly space is at a premium so I don't really have enough room for a Dust Deputy. The new CT Cyclone might be a little bit more space efficient since systainers can stack on top, but still it's extra space that could be used for something else.
30

Thanks for the congratulations about winning the sander. Just to add a few comments about the roadshow. I actually attended two. One at Lee Valley Halifax, and the other Rideout Tools in Dartmouth.

Talking to the tool experts was invaluable. I hadn't seen the Kapex extensions before. They are on my want list. I never did use the parallel guide extensions. I got a quick lesson on calibration. I had just recently purchased my 2200 router. I got some good insight into how to use it.

I wish the end user classes were closer to Nova Scotia and I didn't have to cross the border to attend.

All the best.

Brian