Recent Posts
1
« Last post by Gregor on Today at 03:01 AM »
After 9 years... could it be that the brushes were on their last leg and decided to finally wear out as a coincidence to installing the insert?
2
« Last post by TinyShop on Today at 02:00 AM »
Shipping from Vermont, U.S.A., is one (1) brand new and unused OEM "Systainer Adapter Plate" designed to fit the following Karcher dust extractors:
NT 14/1 Classic
NT 14/1 Eco
NT 14/1 Eco Advanced
NT 14/1 Eco Te Advanced
$45 (via PayPal) shipped to the lower forty eight for the fine members of the FOG.
Others, and for more information, view the related listing
here
.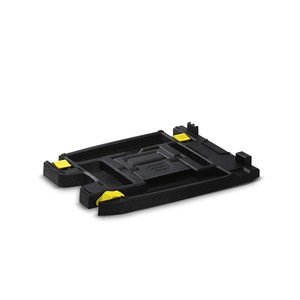 3
I wonder if them can make one for my Festool CTM, likely be better plastic than the standard hose garage that Festool provide...
4
« Last post by thedevme on Today at 01:11 AM »
I do have a list of all the parts. Yes you are correct about the center bar it does have to be removed before you can fold the table. In reality I built this table with expectations of it only being used occasionally but it has been my primary assembly table. I recently added a few more pieces to the lower structure and added a shelf to store my Festool Systainers. I will add pictures tomorrow when I get to the shop. Yes I spent a few dollars making it foldable and ended up not folding it up. Oh well.

I forgot about this thread. This table ended up being one of the best additions to my shop. I was always working on my wall benches meaning benches I had pushed up against the wall. Now I can maneuver all around it.

Its a great table and exactly what I am looking to do. Would love to see more pics and hopefully get a list.
5
« Last post by tomp on Yesterday at 11:31 PM »
6
Australia already has a standard for extra low voltage (below 50V). I've never actually seen one but it looks like this.
We have 230V, 50Hz with nearly all houses wired single phase. All power outlets are required to be switched with the exception of lights (or 'luminaire's as the standard calls them). There is also a type of socket that is switched by the insertion of the plug
For single phase connections, the plug is the same for 10A and 15A, the only difference being the size of the earth pin i.e. a 10A plug will fit a 15A socket but not vice versa. The same plug is used in China and Argentina. China have the socket orientation reversed to Australia, earth is uppermost. Argentina use the same orientation as Australia but neutral and active are swapped
ALL electrical work has to be done by a licensed electrician - no exceptions. About all a mere mortal can do is change a light bulb or replace a fuse.
7
« Last post by jobsworth on Yesterday at 10:23 PM »
hehehehehehehe you know me
8
« Last post by neilc on Yesterday at 10:15 PM »
+1 on the Dewalt

7491RS. I looked hard at the SawStop but it was heavy, expensive and not as easy to use.
I have the Dewalt on my farm, my son has one and my son-in-law has one. We all really like them.
It's a great saw with accuracy, very portable and stores easily when not needed. I love the fence adjustment.
If you have a track saw, the Dewalt is a nice compliment to it for ripping smaller pieces, face frames or other work with small solid wood work.
Add a cross-cut sled or an Incra miter gauge and it's really accurate for miters or cross cuts as well. The miter gauge that comes with is is marginal at best.
I made a suction adapter box out of baltic birch ply for it that allows you to connect a vac into the saw and split off for the overarm collection really easily.
That helps a lot for improving dust collection.
9
Thank you for that, Oliver. I was just mulling over whether to get a Metabo Metadepot (the Systainer adaptor for the older ASR2025) and butcher that to go onto my ASR35M - now I know that Starmix 9and presumably Metabo in due course?) are releasing a ready-made solution I'll hold my horses a bit
10
Dowels, biscuits and/or screws work too. I prefer to avoid the arithmetic involved with dados, personally. Commercial shops are using a tossup of dowels (w/case clamp), CNC dados, and Confirmat screws for a lot of frameless cabinets these days.
In Europe it tends to be dowels, Dominos or screws (NO pocket holes, though) for pre-builts. A few smaller shops use biscuits, but not many. Nobody here ever uses rebates ("dados") or pocket holes - far too time consuming and confer no advantages - but then we tend to use MFC for carcasses and that doesn't work well with either of those techniques