Recent Posts
1
« Last post by ecc1124 on Today at 03:25 PM »
My C12 stopped working. Swapped batteries and still nothing. No beep like just before battery dies. Anyone experience the same and if so, what should I do? TIA

2
I had one of the early DVR lathes and liked it. About the only negative was getting the swivelling headstock to align precisely with the tailstock when you swung it back was tricky. The head and tailstock never were very well aligned. This made drilling out pepper mills more difficult. The ability to turn larger items by swinging the head stock is a bit of a red herring anyways since the lathe doesn't really have the power to turn something that big.

But, if you say money isn't really an object, then you should consider the lathe I replaced my DVR with. I sold the DVR and bought a Oneway 24/36. There really is no comparison between the two in terms of power, precision and quality of manufacture. They're Canadian made and the Canadian dollar is pretty low right now, so they're a pretty good value, although still much more expensive than the other lathes you're considering.

Robust's American Beauty is another very highly regarded lathe that is in the same class as the Oneway. They're made in the US. I've never used one but people rave about them.
3
Thank you all!

For some reason the wet filter didn't show up on the FT website (EU).


Yeah. That worked! Was looking with my , I thought they didn't mention it. :/

Sorry.

Peter

4
« Last post by rvieceli on Today at 03:06 PM »
Never mind found you alkline71
5
« Last post by rvieceli on Today at 03:04 PM »
@alkaline
Outstanding as always
I thought I was following you in Instagram but....
What is your screen name there?
Ron
6
« Last post by alkaline on Today at 03:00 PM »
...library for vinyl albums below the stairs
7
« Last post by dlu on Today at 02:54 PM »
I've been on a mission to get my bandsaw (late '90s Jet 14" with a closed stand) tuned up. The first round involved getting the wheels coplanar and the guidepost vertical and new blades. I also added a Kreg fence. Using Michael Fortune's advice/method () I got the fence aligned to the miter slot and have the blade tracking parallel to the fence. I'm really, really happy with the improvement in saw. Cuts against the fence are dead straight with both a 3/4" Iturra BladeRunner and with a 14 TPI Starrett 1/4" blade.

That said, there is a bit of "washboarding" on cut face (I can clean it up with a 0.5 mm cut on my "jointer" (aka router with an offset fence)) and I notice a slight "throbbing" in the upper blade guide as the saw runs - even when it is not cutting. I'm wondering if this could be the cause of the washboarding and if it could be caused by flat spots on the tires. Or maybe, something in the drive belt and/or pulleys.

I'm thinking my next move is to put a dial indicator on the tires. Any idea how much variation is normal? What do you call that measurement?
8
« Last post by alkaline on Today at 02:47 PM »
Hi everybody, I had a small pause (completely busy with instagram
). however I want to post a few pictures here too, the center of passion for festool.
9
« Last post by dlu on Today at 02:36 PM »
My niece is showing some interest in learning how to do woodworking and we're in the process of building an Appalachian dulcimer. She really likes dogs, so it seemed like it would be fun to carve the peghead into something that looks a bit like her dog. Something like this one by Tim Stuart at
Nature Coast Dulcimer Works
: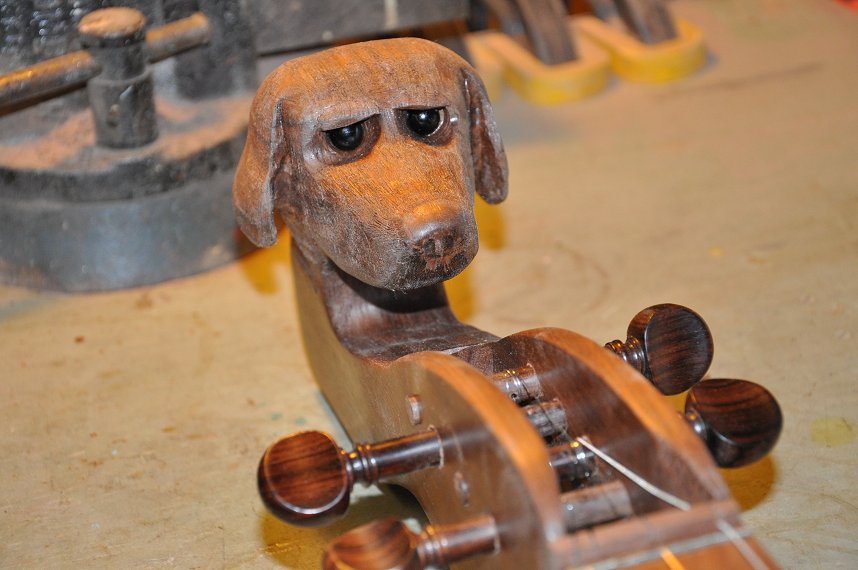 At least that's what I'm hoping to approximate…
But, first I need to learn to carve. If anybody has suggestions for how to get started, I'd sure appreciate some. Immediate questions that come to mind include:
Starting set of tools
Books to read and or videos to watch
Wood to practice on
Fortunately (or not) this is a slow moving, long distance, project, so I've got some time. I'm not hoping to become a great carver, but I would like to have something that looks decent and consistent with the form.